Probably a better list of Royal West India Ranger (RWIR) pension applicants is at UK National Archives (scroll down their page). An independently transcribed list is below with some differences in spelling.
Originals with detail are found at War Office records 97/1154 and LDS Family History Library microfilm 0861851.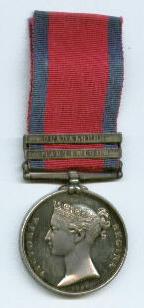 Medal-earners have a small medal image next to their entries.
Rank
Surname
Given name
Allen
James
Armstrong
William
Ashworth
Lawrence
Backs
William
Bamber
James
Berry
Thomas
Sergeant
Birchenough
John
Birmingham
Peter
Brady
Owen
Brigardello
Stephen
Brooking
William
Brown
Andrew
Brown
John
Brown
Richd
Browne
Peter
Brugrass
Stephen
Bueno
Antonio
Bryand
George
Caine
John
Campi
Hugh
Carlisle
Thos
Carney
John
Capegrand
Jean
Corporal
Candle
Joseph
Chamberlain
Mark
Cherry
William
Chrieshanesky
John
Clarke
John
Serg
Clark
Thomas
Clark
John
(Royal Waggon Train inserted probably incorrectly with the Rangers)
Clark
John
Clewly
Thomas
Coote
Thomas or John
Dakin
John
Davey
William
Deitz
Johan
Diblock
Cornelius
Dillon
Michael
Doyle
Richard
Dwyer
Michael
Early
William
Serg
Edwards
Richard
Everly
John
Col. Sergt.
Everitt
William
Fabria
Lorenzo
Fare
John
Farrell
Simon
Feeny
James
Firman
Thomas
Foley
William
Fossett
Robert
Freeman
Moses
Gallagher
Michael
Gardener
John
Graft
Charles
Grecian
Thomas
Green
John
Griffiths
John
Harris
Robert
Hart
James
Hawkins
Thomas
Hayes
James
Healy
Bryan
Sergeant
Heather
James
Hodgins
Richd
Hogan
Jas [James]
Hollis
Wm. [William]
Drummer
Hone
Stephen
Hornblow
George
Hudson
Saml[Samuel]
Hulse
Wm [William]
Hutchinson
George
Sergeant
Iville
Thomas
Jacobs
James
Jenkins
Samuel
Johnston
William
Jones
William
King
Hugh
(Twice promoted to sergeant and twice demoted to private)
Knowles
Richard
Knott
William
Kyack
Ivan
Lee
William
Leggatt
Thomas
Corporal
Lubzeck
Sabo
(From Riga, Russia)
Lilliwhite
James
McCarty
Timothy
McCawley
Wm [William]
McClure
Saml [Samuel]
McCroden
Francis
McDonald
Law'ce [Lawrence]
McIntyre
Charles
McQuade
Bernard
Malone
Luke
Manning
Dennis
Manosi
Gerelimo
(From Italy)
Mariani
(?J)esmond
(From Italy)
Marzella
Benedict
(From Italy)
Masoki
Pierre
(From Italy)
Mason
Petro
(From Poland)
Matthews
Henry
Mayes
James
Mellson
Thomas
Monti
Alexander
Morandi
Peter
(From Italy)
Drummer
Moss
Joseph
Murphy
Cornelius
Corporal
O Neal
James
O Neil
Felix
Pallet
Wm [William]
Pearson
James
Pelavicini
Jean
(From Italy)
Phillips
Richard
Porter
George
Prescott
James
Colour Serjeant
Punchard
Matthew George
Raddi
Hamislaus
(From Poland)
Serjeant
Redman
Samuel
Revell
Benjamin
Rielly
Patrick
Corporal
Redford
Thos [Thomas]
Drummer
Ringrose
Rook
John
Serj & Drummer
Russell
John
Sampson
William
Sandroski
Louis
(From Tuscany, Italy)
Seradas
Bona
(From Italy)
Shannon
Miles
Shaws
Robert
Sheel
Thomas
Sheers
John
Shroul
Henry
Serjeant
Sloane
James
Smith
James
Snead
Frederick Gregory
Streeter
Samuel
Stringer
William
Serjeant
Sweeney
Charles
Tanner
Thomas
Taylor
Charles
Taylor
James
Tier
William
Serj
Tyson
Thomas
Valenburst
Jacob
(From Holland)
Vanbeck or Vanbock
Christopher
(From Holland)
Vandioni
Pierre
(From Italy)
Verbisky
Jacob
(From Ottaman, Russia)
Ward
Thomas
Wilde
Thomas
Wilks
Thomas
Willis
William
Corporal
Wilson
William
Woolham
Thomas