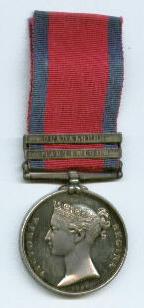 "The Military General Service Medal was not issued until 1847 and the person had to be alive and claim his medal and clasps. When you consider that the events had taken place much earlier, you can imagine that many of the men were already dead, thus the medals are quite rare." (John Wright, 13 August 2005 e mail, QC Militaria).

Following is a list of the only ten RWIR to receive medals for campaigns in 1809 and 1810.

None were awarded to the 62 RWIR settlers in the Military Settlement of New Brunswick though two NB soldier-settlers were in the Rangers early enough and may have been present at the campaigns. Henry Bowmaster is believed to have passed away about 1830 (well before the 1847 first issue date), and this website has no information after 1819 regarding Patrick Lynch. Pvt Lynch would have been at least 65 when the medals were first awarded.