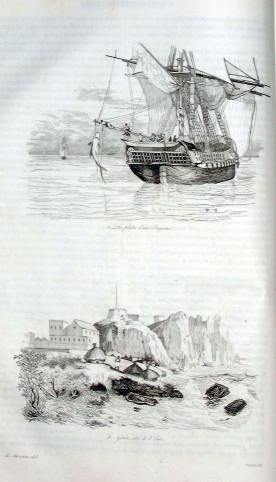 The above contemporary images from the Island of Goree, are courtesy of
Kaui Fine Arts.
"In August, 1800, a regiment known as Fraser's Corps of Infantry, was raised for the defence of the Island of Goree in West Africa which had recently been captured from the French. In January, 1804, Goree was recaptured by the French, but was again taken by the British in March of that year, a detachment of this African Corps being again left in possession of the island. On 25th April, 1804, the King approved of the regiment being named the Royal African Corps...."
"This regiment was one of the several penal corps or "condemned battalions" raised about this time which were recruited from deserters and culprits from the hulks; a few [black soldiers], however, were also recruited and attached to this corps.
"In October, 1806, the Royal African Corps was divided into two regiments, one of which was styled the Royal West India Rangers, whilst the other retained the name of the Royal African Corps. The former of these two regiments was stationed in the West Indies, and the latter in Africa, both corps continuing to be recruited as before from pardoned deserters and men from the hulks."
W.Y. Baldry, Journal of the Society for Army Historical Research, Volume xiv, Number 56 (Winter 1935), pp.233-234.